Just 1000 fans permitted for each day of Galway Festival
We bring you the news that only 1000 fans will be allowed into Galway for each day of their summer festival
This popular seven-day meeting starts on July 26th
Racecourse manager Michael Moloney was hoping crowds of around 5000 would be allowed
Moloney described today's news as "extremely disappointing"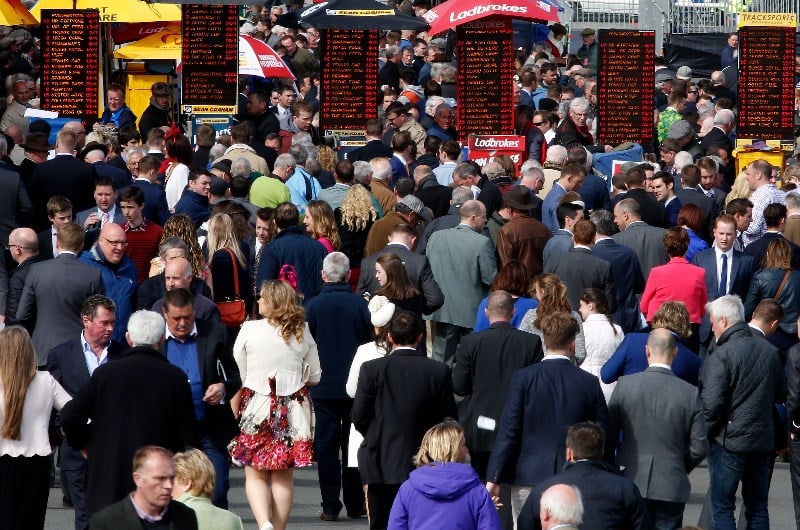 Irish betting ring. (Getty)
News broke today that only 1000 fans would be allowed to enter the racecourse on all seven days of the upcoming Galway Festival.
The Galway Festival is one of the most popular horse racing meetings in
Ireland
during the summer. Several lucrative jumps and flat races will be staged during this seven-day celebration of Irish racing, and 130,000 fans passed through the gates during the 2019 meeting.
Last year, the action was played out behind closed doors. There was more optimism this time around, with racecourse manager Michael Moloney hoping up to 5000 tickets would be available for each day. Sadly, Covid-19 restriction remain in place, and just 1000 tickets will be put up for sale for each of the seven days.
"We got news last night that we will be able to host 1,000 spectators on each day of the summer festival." Moloney told the press today.
"We know given the support that we've got over the last couple of weeks that this will be extremely disappointing news to all our fans who had been looking forward to the opportunity maybe of coming back to Ballybrit this year."
"In terms of our sponsors and everybody that had been working towards a larger crowd at this year's festival, it will be disappointing."
He added: "On the upside it is 7,000 more people than we had this time last year and for those that do manage to get to come to Ballybrit this year we're delighted we'll have owners back and now a small amount of public on top of that. We certainly look forward to making it an event that will be worth being at."
"We'll provide some further updates in the next couple of days once we detail the plan how we manage the 1,000 spectators attending this year."
Trainer, Henry De Bromhead confirmed earlier this week that his main hope for the Galway Plate - the feature race of the meeting - would be Walk Away, who was last seen finishing second in a big handicap at the Punchestown Festival. Walk Away could go toe-to-toe with two-time Cheltenham Festival winner Samcro, who's also been pointed towards the Galway Plate by Denise Foster and Gigginstown Stud.