Misfortune could lead to victory for Frankie Dettori
The chances of James Garfield have been talked up by champion jockey Frankie Dettori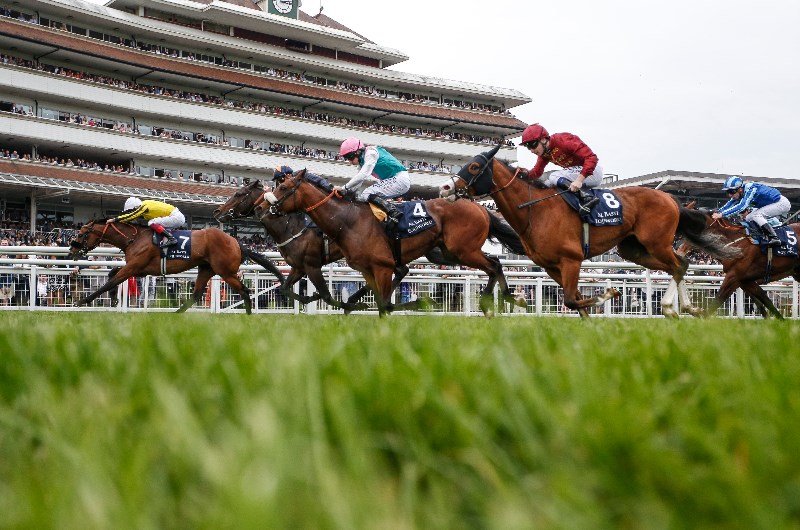 Frankie Dettori riding James Garfield (L) win The Al Basti Equiworld Supporting Greatwood Greenham Stakes at Newbury racecourse. (Photo by Alan Crowhurst/Getty Images)
Without Parole was ruled out of the 2000 Guineas but that misfortune could lead to success for Italian jockey Frankie Dettori.
Losing the ride aboard the unbeaten son of Frankel would sting the champion jockey but that hasn't stopped Dettori from talking up the chances of 25/1 outsider James Garfield.
Saturday's
2000 Guineas
field is packed full of talent and James Garfield has experience at high levels, which Without Parole did not. The confidence was oozing from Dettori this week and he believes he'll be competitive come the 2000 Guineas.
"He was a nice two-year-old, he wears his heart on his sleeve and he's a real fighter. He's fit and well, he's won the Greenham," Dettori said.
"He'll run his James Garfield race, you know what he's like, he's always competitive and if he's got a fight on his hands, he'll thrive on that."
The Greenham Stakes winner has already proven his worth on the big stage and although Dettori is aware of the challenges ahead, he's not backing down from conceding defeat.
"I don't know what Aidan O'Brien is bringing to the table. No one really knows," Dettori added. "Listen, he can only beat what's put in front of him and he did that in the Greenham.
"The horse is fit and well, we go in there with an outsider's chance but we hope for a little bit better than that."
James Garfield represents a fledgling stable which has been in existence for only three years but already has a runner in the 2000 Guineas.
"It's his third year training and he's got a horse running in the Guineas with a chance, so... he's a friend, I'm a friend of Tim and Bill [Gredley, owners of the horse]," Dettori said.
"They've been friends for a long time, I feel for them and that's why I want to do well."
Scott spoke about the thrill of having a runner in one of Britain's biggest races.
"I'm nervous, apprehensive but seeing him in such great form this morning definitely calmed my nerves," Scott said.
"I'm more excited than anything. It's a dream come true, to be able to line up in the 2,000 Guineas. I'm trying to enjoy the build-up.
"I honestly couldn't be happier with the condition that he's in at the moment. Providing we can maintain that over the next few days, I've been delighted with his preparation.
"I think there's some lovely horses in the race, many of which are unexposed. There's plenty of horses that fall into the 'could be anything' bracket. I don't think anyone could say conclusively that this or that horse is going to win."