Justify on track to continue Triple Crown bid at Pimlico
Connections are happy with the Kentucky Derby winner after pleasing work throughout the week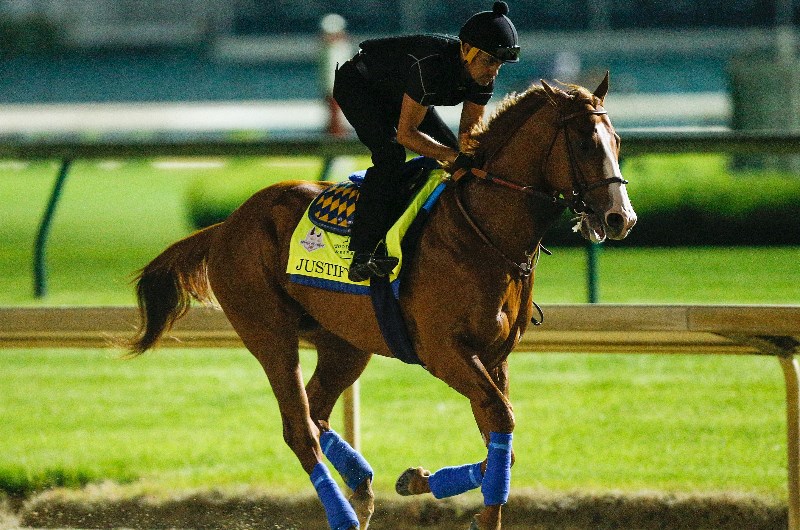 Justify works well ahead of the Preakness Stakes. (Michael Reaves/Getty Images)
Kentucky Derby winner Justify works well ahead of Preakness Stakes.
The Bob Baffert-trained three-year-old has come through a tough run in the mud at Churchill Downs and according to the veterinarian overseeing his health, Justify is in top shape.
"One of the most remarkable things about him is his capacity for recovery respiratory-wise," Dr. Kevin Dunlavy said. "He'll go out and train, it could be a strong gallop, and within minutes he's completely caught his breath.
"His recovery seems maybe superior to the average horse."
Bob Baffert's assistant trainer, Jimmy Barnes, has been happy with what he's seen during the week.
"That's his normal self out there: high energy level, feeling very good, had a good bounce in his step, going over the track perfect," Barnes said.
"Couldn't fault anything he's doing right now. Everything looks great.
"Justify couldn't be looking any better. Going into Baltimore this next week, I couldn't be happier with how he looks.
"The next seven days it's just keeping him healthy and happy. He had a hard race in the Derby, and the Preakness comes up quick. You just want to go in there with a happy, healthy horse."

The $1.44 favourite has been tipped to win the
Preakness Stakes
by many trainers, including D. Wayne Lukas, who has won the Preakness Stakes on six occasions.
"I think this horse has a great chance; I wish I had him," Lukas said. "There's no horse out there right now that can stop him on this run. He's going to get a mile and a half (in the Belmont).
"He's going to run well in the Preakness. It's his
Triple Crown
to lose. Ironically, we'll have two Triple Crown winners in a short period of time. I really think it could happen."
Lukas lines up Bravazo and Sporting Chance in the Preakness and although he's all but conceded defeat to Justify in the media, he's not without a chance of capturing his seventh win.
"We'll keep hammering away at him obviously," Lukas said of taking on Justify. "Our horses are tough. The thing about the Preakness is that you've got to have a tough horse, a horse that can rebound very quickly from the Derby, regardless of the trip.
"We've got one of those this year – Bob (also) has one is the problem. You can see it by the way he gallops, how aggressive he is.
"Our horse (Bravazo) is tough. I'd like to run it today; I don't want to wait a week."
Horse Racing News