Nash Rawiller banned for betting-related charges
Will Nash Rawiller ride in Hong Kong ever again after copping a lengthy ban?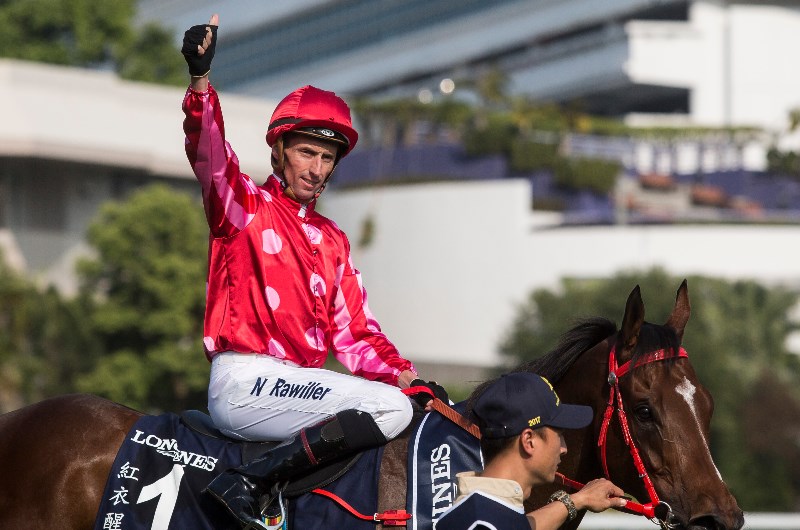 Jockey Nash Rawiller of Australia onboard 'Mr Stunning' gestures after winning the Longines Hong Kong Sprint at the Longines International Race Day. (ISAAC LAWRENCE/AFP/Getty Images)
Australian jockey Nash Rawiller has been banned from riding by Hong Kong Jockey Club stewards.
The champion jockey has copped two 15-month suspensions, which will be served concurrently, after being found guilty of a betting-related charge.
Following an investigation, it was found that Rawiller had been betting on horses he was riding, with the bets being placed by people known by Rawiller.
Rawiller was also charged with accepting gifts for providing these tips.
The 15-month suspension rules Nash Rawiller out till 25 July, 2019 and it's uncertain whether his future will remain in
Hong Kong
, given the reputation of Australian riders such as Chris Munce, who was jailed for his betting-related charges.
Jockeys are not permitted to bet on horses they are riding for various integrity reasons, but stewards did suggest that Rawiller had given his mounts every chance to win.
Racing Authority, Andrew Harding, said the Hong Kong Jockey Club has a resolve to ensure the highest standards of integrity.
"The Club's handling of this matter demonstrates the expert nature and strength of the Club's systems for the prevention and detection of breaches of the Rules of Racing, and our unwavering resolve to ensure the highest standards of the integrity in Hong Kong racing," Mr Harding said.
Rawiller was third in the Hong Kong jockeys' premiership with 40 wins and has ridden in the
Melbourne Cup
on several occasions before making the move to Hong Kong.