Key Quotes
Nicky Henderson Quotes - "We're not a second division team, but we're taking on Manchester City"
We bring you quotes from champion jumps trainer Nicky Henderson
Ireland dominated their British counterparts at this year's Cheltenham Festival
Many have called for a British equivalent of the Dublin Racing Festival to be introduced
Henderson disagrees, citing the sourcing of young horses as the reason for Ireland's current position
Trainer Nicky Henderson poses for a photo with Altior, hopeful for the Betway Queen Mother Champion Chase. (Getty)
Following Ireland's overwhelming dominance at this year's
Cheltenham Festival
, there's been an inquest ongoing into the current state of British National Hunt racing.
Most punters care very little about the Prestbury Cup, but recent results in that side competition at the Cheltenham Festival cannot be ignored. Ireland has bested their hosts in five of the last six years, with Britain scraping a 14-all draw in 2019.
In 2021, Ireland ran riot at Cheltenham, winning 23 of the 28 races staged during the week, a situation Nicky Henderson described as embarrassing during a recent interview with the Racing Post.
"It's a trend." Henderson said. "If you look at the (Prestbury Cup) scoreboard in the parade ring, it's been embarrassing, and it was even worse this year."
Several ideas have been bandied about in recent months in a bid to arrest Britain's slump. The most common amongst them is the invention of a Dublin Racing Festival-style meeting which would take place in the weeks building up to Cheltenham.
While Henderson is keen for changes to be made to help Britain become more competitive again, he doesn't share the same belief as many of his counterparts.
"I can't believe (Ireland's dominance at Cheltenham is) because of the Dublin Racing Festival." Henderson continued.
"We don't go to Dublin because we do not want a mega dust-up five weeks before Cheltenham. It's how to lose your race, not win them. If we had one on our doorstep, you'd still be mindful that what they don't need is a desperately hard race five weeks before."
"It's difficult to say we need to be reacting because the Irish won all the races at Cheltenham – that's because on the day they had the better horses. I don't think it's because they were better prepared due to the Dublin Racing Festival. We just got beaten."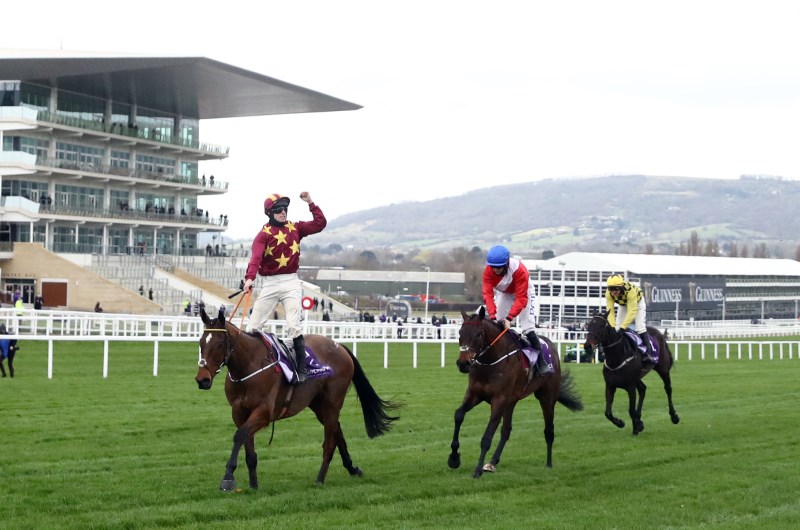 "More opportunities would be good. We're very short of novice chases at that time. I had to go to Wetherby with Chantry House to find him a race because there wasn't anything else. The novice hurdles could do with a look as well. But I can't believe a Dublin Racing Festival here would change that scoreboard violently in Britain's favour just because we have better trials."
Instead, Henderson cited Ireland's ability to produce world-class horses in the point-to-point field as the reason behind their current superiority.
"They've got a lot of firepower over there and the source of the good horses seems to have switched away from France and back to Ireland."
"If you go back six or seven years, everything was French and the balance seems to have shifted. Those horses who are winning Irish point-to-points are close to home. That is the prime nursery ground.
"We had two winners at Cheltenham and they both ran in Irish point-to-points. Not surprisingly, Ireland has an advantage as they know exactly what's going on before we do. We don't know what's happening on a Sunday at Dromahane until we read the paper the next day, by which time the four maiden winners have probably been bought."
"A lot of the time we seem to be fighting a losing battle in the sale ring. We're very lucky to have the firepower that we do have to buy horses, but Ireland is in a very healthy state."
Like many of his fellow trainers, Henderson also lamented the lack of prize money in Britain compared to Ireland as another reason why British trainers are struggling to capture the best horses.
"I do have the ability to buy expensive horses and so does Paul Nicholls and various others, but prize-money is tempting British owners (over to Ireland)."
"There are a number of British owners who have moved over there. It's worrying and they'll tell you it's because of prize-money. We're not a second division team, but we're taking on Manchester City who have more stars in their squad than we have at the moment."