2021 Epsom Derby News - Key quotes as connections discuss their runners
We bring you the key quotes from the connections of this year's Epsom Derby runners
The Epsom Derby takes place at Epsom on Saturday 5th June
12 colts were confirmed in the final field
We have quotes from Aidan O'Brien, Charlie Appleby and William Haggas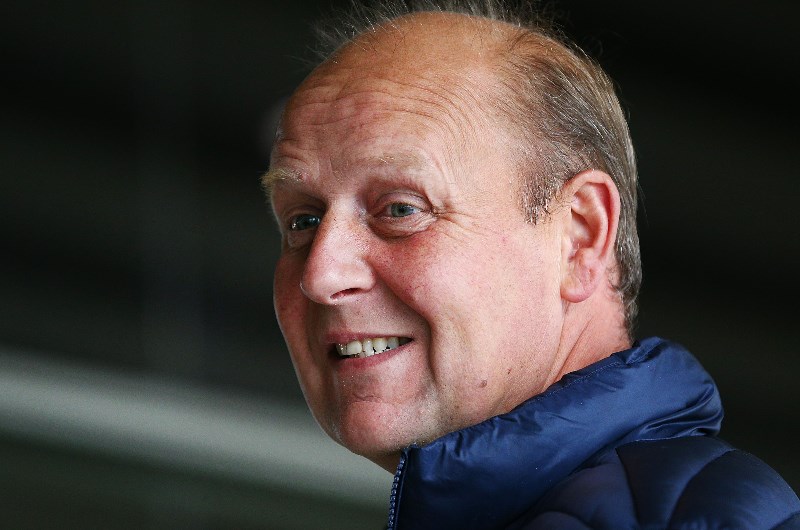 Ed Dunlop will saddle John Leeper before the 2021 Derby. (Getty)
The
2021 Epsom Derby
is almost upon us, and punters are expecting a fantastic race at Epsom Downs on Saturday. To help you try and pick the winner, here's the latest quotes from the connections of this year's runners in the Derby.
2021 Epsom Derby Tips - Quotes From Connections
Bolshoi Ballet
2021 Epsom Derby Favourite
GET 5/4 HERE
New customers only. 18+ T&Cs and wagering requirements apply.
Aidan O'Brien speaks to Sky Sports about his sole runner Bolshoi Ballet
"We're happy with him. Everything has gone very smooth. He's a very uncomplicated horse, you can ride him anywhere in the race. He's always been very straight-forward and well-balanced."
Ed Dunlop talks about John Leeper with Sky Sports
"It's a great story from an English point of view to have a horse named after my father, who won the Derby twice. Quite rightly people are latching on to it. There's obviously a lot of sentimental reasons for it all.
"There is pressure because of his name, but he doesn't know what his name his.
"The Derby needs a good boost. I'm sure Aidan (O'Brien) will win and have the first four as he normally does but we'll give it as good as we can.
"We'll shed a tear if he wins."
Jim Bolger talks to Sky Sports about Mac Swiney
"He's come out of his Guineas run at the Curragh very well. He's fresh and perky and didn't have to do any work in between the Guineas and the Derby."
"He's had an easy time for a couple of weeks. Hopefully he'll be on top of his game by the time we get to the Derby."
"It looks as if he'll stay, he was staying on well at Doncaster in the Vertem Futurity in heavy ground as a two-year-old and he got the mile very well at the Curragh in heavy ground as well so I'd be fairly optimistic that he will get the trip."
"We've drawn a line through the Derrinstown race because he wasn't right on the day."
"We were a bit surprised he bounced back so quickly after it. He had a bad nasal discharge for the best part of a week after the race."
"As soon as it was cleared up he seemed to be in very good form so he did one piece of work before he went to the Curragh."
"He didn't go there specifically to win the race, he went there to make sure he'd be on song for Epsom. As it transpired, he was probably a bit more forward than we felt he was and the rest is history."
*All quotes taken from Sky Sports*
William Haggas discusses Mohaafeth's chances with Racing TV
"He's very good, Jim (Crowley) came and rode him, and he worked with two very smart older horses and went very nicely."
"Of course the track is a worry – and you don't know until it happens – but I think he's got a bit of speed, and Lester always used to say you need speed from the top of the gate to get in a position that allows you to amble around the corner, so that will help him.
"Hopefully he gets a middle draw, so Jim can get a good position.
"The requirements haven't changed – it's still a big test. The staff are a little bit more edgy – you try to appear cool. Ed is a classic case as he walks round very calm, but he's like a duck – underneath his legs will be going like the clappers, like all of us. He'll be tense, because it's our biggest race.
"We're lucky to have contenders in the biggest races, but there ain't one like the Derby."
*All quotes taken from Racing TV*
Charlie Appleby talks up Hurricane Lane's chances with the Yorkshire Post
"I think as we saw in the Dante he is a very amenable horse,"
"From that draw William (Buick) can assess what is going on around him and feels where he needs to be in whether that is to push forward or sit in so I am happy with the draw in that sphere."
"I was delighted with him at York and plenty of people would love to be sitting on an unbeaten colt that is three from three and a Dante winner going into a Derby," he added. "He is a live contender. He ticks all the boxes and looks great and I couldn't be happier with him.
"He has just been doing his routine work but he is a very straightforward horse. Since the Dante we have just tried to keep him in that same place and it's so far so good. In an ideal world we would love it to be on the easy side of good but if it is good, good to firm in places it will be genuine safe ground."
"For a big horse his demeanour allows him to be managed through the race and as he relaxes William can put him where he needs to be."
Mark Johnston talking about Gear Up
"I thought he was in a reasonably good pitch (in the Dante) and I would have not swapped him three furlongs out. I thought of those chasing the leaders he looked the most likely at that point."
"The eventual first and second had another gear than him from two out and he plugged on one pace at the finish. He is sure to be better over an extra two furlongs."
"Although he is a 33-1 shot I think, he deserves his place in the line-up as a Group One winning two-year-old and it would be no surprise to see him finish in the money,"
"I don't think he needs that kind of severe testing ground on which he won his Group One on last season, it is more the fact it inconveniences other horses. The extra test of stamina here will suit him as we expect him to be a strong stayer at a mile and a half."
*All quotes taken from Yorkshire Post*
Roger Varian talks to the Daily Mail about Third Realm
"He is a relaxed character and a bit of a cool dude. Whatever Epsom throws at him on the day I would be hopeful he can pass that test."
"It is vital on these big races that you don't waste energy in the paddock, on the way to the start, behind the gates or in the first two furlongs."
"We've still got to learn if he's got the engine to bring home The Derby. But I think he has the mind for it."
"He's not a big horse but is very well-balanced and a neat horse. I'm quite confident he is going to get the trip."
*All quotes taken from the Daily Mail*
Andrew Balding discusses Youth Spirit's chances with Racing Post
"He handled the tight bends at Chester, which is often a good indication for Epsom."
"We had doubts about stamina before running at Chester, but I'd say there are no doubts he'll stay the trip now. He's by Camelot, but there is a lot of speed on the female side of the pedigree. You cannot be confident ever, but he deserves a shot and has a fair chance."
"He'll handle any ground. He'd want to avoid extremes, which applies to most horses, but soft ground would be an advantage because we know he handles it, although he doesn't need it to perform."
*All quotes taken from Racing Post*