Vital Info
2022 King George VI and Queen Elizabeth Stakes News - Key quotes from connections
Key quotes ahead of the 2022 King George VI and Queen Elizabeth Stakes
This Group One headlines the card at Ascot on July 23rd
Six stars will clash in Saturday's main event
Read key quotes from Ralph Beckett, Frankie Dettori, James Doyle and more
Frankie Dettori riding Enable (pink cap) win The King George VI And Queen Elizabeth Qipco Stakes from Crystal Ocean and James Doyle (L, yellow cap) at Ascot in 2019. (Getty)
King George VI and Queen Elizabeth Stakes - Key Quotes
Ralph Beckett speaking to Sky Sports about Westover
Westover
2022 King George VI and Queen Elizabeth Stakes
GET 6/4 HERE
New customers only. 18+ T&Cs and wagering requirements apply.
"Westover changed after the Derby, and he is developing physically through the year. We are still on a deep learning curve with him, and we will see if that helps us on Saturday."
"It was great that he won the Irish Derby and the manner of his victory was more than I was hoping for and better than I expected."
"He went away and had a trip to Kempton in preparation for the King George and worked well over a mile. I am very pleased with him and now we just have to wait and see."
Frankie Dettori talks about Emily Upjohn with RacingTV
Emily Upjohn
2022 King George VI and Queen Elizabeth Stakes
GET 11/4 HERE
18+ only. Gamble responsibly. Ts and Cs apply
"It's nice to have a race for Emily Upjohn so soon after she was forced to miss the Irish Oaks through travel complications."
"It's unfortunate what happened, but at least we have the King George only a week later, so she's still able to carry on her routine."
"She worked nicely at the July Course a couple of weeks back and has seemed in good form since, so we're all set, but the King George is going to be a much tougher race."
"It's a small but select field and all six runners are good horses, so there aren't really any outsiders. She was ready to go to Ireland and she's also ready to go to Ascot."
"We get a massive pull in the weights, which is a big help, and barring any accidents I'm hoping for a big performance. Fingers crossed we got all the bad luck out of the way at Epsom!"
"Epsom was a nightmare, but that's racing. Just when you think you've got everything covered, something like that happens.
"You can't take anything for granted in racing and we just have to keep our fingers crossed that everything goes well. Ascot is a beautiful track, I love it, it tends to be very fair and the King George is a race you want to win every year."
READ: Free ITV Racing Tips at Ascot and York on Saturday 23rd July
James Doyle talks to Sky Sports about his ride on Mishriff
Mishriff
2022 King George VI and Queen Elizabeth Stakes
GET 7/2 HERE
18+ only. T&Cs apply. Stay in Control. Gamble Responsibly. Think! About your choices. Call Gambling Help on 1800 858 858 or visit www.gamblinghelponline.org.au.
"Obviously I feel terribly sorry for David, it's never nice, but I heard him say he's not the first person to be jocked off a horse and he won't be the last. I think that's the right way to look at it, these things happen and how you deal with these events kind of defines you as a person.
"He's dealt with it like a grown-up man and we mustn't forget he's still a young man in this sport, so he's still learning his trade and full credit to the way he's coped with everything."
"I jumped on him at 5.10am (work ride on Mishriff) and he did a nice blow up the Al Bahathri, a gallop he knows well, and he felt in good order. There was no questions asked, but I have to say he felt super and moved great.
"It's very exciting - what a race. It's a small but select field, but there's not one runner in the race that doesn't deserve to be there."
"I think he did a great job to surge at them late (In the Coral-Eclipse). Inside the last 50 yards, he really did power home when he got into some clean space."
"It was and unfortunate position to find himself in. Three back on the rail at Sandown is a very difficult situation to be in and you need lots of luck to go your way."
"I felt very sorry for David Egan the way things unfolded as the gaps just didn't open up, but that's Sandown, especially in those very competitive races like the Eclipse."
"I think he showed he's right at the top of his game and I think it was mentioned before the Eclipse that he'd be better for the run. The prospect of him being more tuned up for the King George is quite exciting and the mile and a half doesn't seem to be a problem."
"He's a horse that really wears his heart on his sleeve late on in a race. He has that superb way of galloping where he really does get his head low. I wish every horse tried as hard as he does."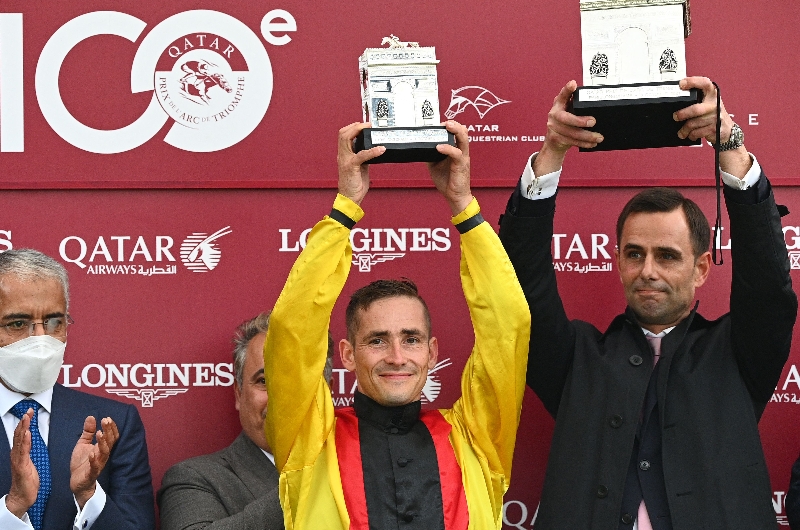 Marcel Weiss talks up Torqautor Tasso's chances
Torquator Tasso
2022 King George VI and Queen Elizabeth Stakes
GET 12/1 HERE
Get a R25 sign up bonus
"I have watched a lot of reruns of the King George and I think the track will suit Torquator Tasso. He is used to long straights. I mean he ran at ParisLongchamp, which is not so dissimilar, so I'm not worried about him adapting to the track."
"I'm not nervous. At least not yet. Talk to me on the day and it might be different, but right now, it's business as usual."
"Torquator Tasso did his final piece of work on Monday morning, when he worked over a little more than 2000 metres together with his usual leader. We were very pleased with that gallop. He was ridden by Rene Piechulek who was also very happy with him."
"The horse is still not 100 per cent ready, as he always progresses throughout the season. Following his victory in the Hansa Preis at Hamburg, I also briefly considered the Grosser Preis von Berlin for him. But he has won the Arc, so why shouldn't he run against the best horses?"
"If he was placed in this race, it would go a long way when he is retired to stud at the end of this season. It would read better than a second or third place in Berlin, which is also something that could happen as you never know with races."
"If the temperatures had stayed high we might have changed our travel plans, but there is a bit of rain forecast and the temperatures are supposed to drop, so I'm not worried."
"The same goes for the ground at Ascot. I know that the best horses in the world run there and that they always look after the ground. I cannot imagine that the ground is going to be like the road."
Aidan O'Brien talking about Broome following his Hardwicke Stakes win
Broome
2022 King George VI and Queen Elizabeth Stakes
GET 18/1 HERE
18+ only. T&Cs apply. Stay in Control. Gamble Responsibly. Think! About your choices. Call Gambling Help on 1800 858 858 or visit www.gamblinghelponline.org.au.
"He suffered a fractured shin when he was kicked unsaddling after the Japan Cup. He had time off and needed his run in the Tattersalls Gold Cup. He has a very high cruising speed, and doesn't surrender."
"It was a brilliant ride. Ryan has done an incredible job on Broome. He is a six-year-old colt now and one very strange thing is that he seems to be coming to the peak of his career after all these years. He is by Australia and is very brave."
RacingTV catch up with Pyledriver's jockey PJ McDonald
Pyledriver
2022 King George VI and Queen Elizabeth Stakes
GET 33/1 HERE
New customers only. 18+ T&Cs and wagering requirements apply.
"I've been excited for the last few days, to be honest. It's getting closer now and it's just making sure the horse gets there in one piece and I get myself there in one piece."
"The King George is one of the races you dream of riding in and a lot better riders than me have never got the opportunity, so I feel like I'm in a very privileged position."
"He's obviously improved a lot since I rode a couple of years ago. They've done a great job with him and he's a horse that's just progressed with age."
"He's a well-seasoned campaigner and has been to all the big dog fights, so I'm really looking forward to riding him. You can make a case for every horse in the race pretty much. We're the outsider, but I think he'll go and do himself credit."
"Fingers crossed we get a bit of luck and so long as he runs well, you can't ask for much more."