Download the dabble app
with referral code BETSAU
Tested
Last used 59 mins ago
Download the dabble app, enter referral code BETSAU during registration & set up your profile to enjoy Dabble, the betting app with a difference! Bet as normal with Dabble & be part of Australia's betting community where you can follow other punters and well-known sports stars, copy their bets, have banter with your mates and watch Sky Racing channels. 18+. T&Cs apply.What are you prepared to lose today? Set a deposit limit.
1
Reveal bonus code
Click on the box to see our bonus code
2
Open the site
Register and use the promotion code
3
Sign up
Benefit from exclusive bonus when you sign up
Visit dabble
Dabble is quickly establishing itself in the Australian sports betting scene, and this mobile brand is quickly growing an impressive reputation.
Dabble.com.au
is a betting app with a difference. The mobile-only interface allows users to follow other punters and well-known sports stars. You can copy their bets and have banter with your mates at the same time.
This brand offers a huge range of sports betting markets. Here's everything you need to know about this new brand on the block.
Dabble Code for November 2023
The Dabble code is BETSAU. This is the only code you should use when you sign up with this brand.
There is no welcome bonus or offers available for signing up with government legislation preventing all bookmakers from offers incentives, but you will receive daily promotions and offers once you are signed up at Dabble.
How To Join
Before you can start betting with your friends, you need to open a new account. If you think this is the right sportsbook for you, then follow these simple steps to join...


Go to Dabble.com.au
Click on the relevant app to download or scan the QR code
Fill in the form to create your account
In the box titled "Have a code?", you can use BETSAU
Once your account is created, you can start betting via the app, copying and follow other members and accessing the latest markets and promotions.
Dabble Betting App
Dabble is a betting app only. There is no betting available via desktop site with Dabble.com.au making the decision to go down the mobile only punting route.
You can download the iOS and Android betting app from the various app stores available for your device.
The betting app is owned and run by 100% Australian Dabble Sports Pty Ltd, which is based in Australia with offices in Darwin, Melbourne, Brisbane, Adelaide and Albury.
Racing and Sports Betting
When it comes to sports betting, everyone is well catered for. The horse racing sections features betting markets for all domestic thoroughbred, harness and greyhound racing available at Dabble. You can also bet on international racing from the likes of Hong Kong, the UK and Ireland, France, United States and Japan.
Away from horse racing, the selection of sports betting isn't as comprehensive as you will find at more established bookmakers, you still have a good selection to choose from. Sports betting is available across AFL, NRL, Soccer, NBA, NFL, Darts, Tennis, Motorsports, Volleyball and many more.
Live Racing Streams
Dabble now have live racing streams available having added Sky Racing Channels to their list of features offer.
You can watch horse racing, harness racing and greyhound racing 24/7 via the Dabble betting app with Sky Racing 1 and Sky Racing 2 built into the product.
Watch any race streamed live in the app by tapping on the Sky logo at the top of the screen. It will open the racing and you can watch and bet while streaming.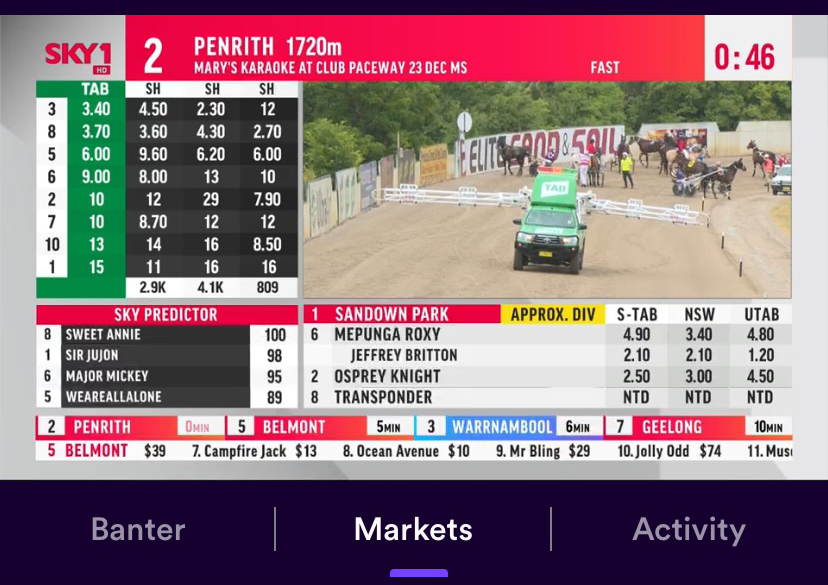 Features and Promotions
Member exclusive promotions are available Dabble. You will be able to access them once you are logged into your account.
An excellent range of special features helps Dabble stand out and gives the brand a unique selling point. As it is a betting community, you have the option to make your profile public or private, should you not want punters following your selections or seeing what and when you are betting on.
Copy Bet
The Copy Bet feature allows users to copy the bet of other punters and sports stars who form part of the influencer team on the betting app.
Bet Description
As well as being able to have fellow punters follow your bets, you can use the Bet Description feature to share your knowledge and expertise when you have placed a bet on a variety of sports.
This excellent feature allows you to add your thoughts, reasons and explanation for why you have opted the selections in your bet.
Banter
A key part of the betting community element that Dabble has is the banter feature. You can celebrate wins together if you've followed your mates. Don't be afraid to sledge them when their punts lose and build up a rapport with people you have never met.
Payment Methods
The payment options at Dabble.com.au are fairly limited. Here's what you have to choose from...
Customer Service
If you run into any difficulties, you can contact the Dabble team by emailing support@dabble.com.au.
Dabble FAQs
Is there a Dabble code?
Follow the links on this page, the code BETSAU will be automatically added for you. If the "Have a code?" box is auto filled, insert the code manually.
How do I download the Dabble betting app?
The app is available for iOS and Android devices and can be download from the respective app stores.
Who owns Dabble.com.au?
The betting app is owned and run by Dabble Sports Pty Ltd, which is based in Australia with offices in Darwin, Melbourne, Brisbane, Adelaide and Albury.
dabble

Download the dabble app

Download the dabble app, enter referral code BETSAU during registration & set up your profile to enjoy Dabble, the betting app with a difference! Bet as normal with Dabble & be part of Australia's betting community where you can follow other punters and well-known sports stars, copy their bets, have banter with your mates and watch Sky Racing channels. 18+. T&Cs apply.What are you prepared to lose today? Set a deposit limit.

Tested

Last used 59 mins ago
Last updated by on 28 Nov 2023