2021 Royal Ascot News - Wesley Ward Stable Tour
We bring you the latest quotes from top US trainer Wesley Ward ahead of Royal Ascot 2021
This year's Royal Meeting kicks off on Tuesday 15th June
Ward has saddled 11 winners at Ascot since his first win in 2009
Read Ward's quotes on his nine entrants at Ascot next week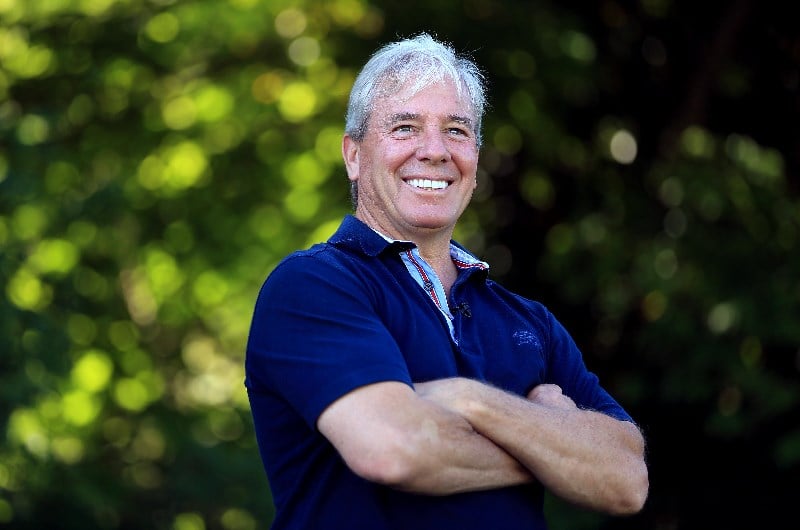 Trainer Wesley Ward during a Royal Ascot American Horses Media Morning at the National Stud on June 09, 2021. (Getty)
US trainer, Wesley Ward is no stranger to the winner's enclosure at Ascot racecourse. Since his first victory at the Royal meeting back in 2009, Ward has saddled ten further winners, celebrating victories in prestigious races like the King's Stand Stakes and the Diamond Jubilee.
With this year's Royal Meeting just days away, Wesley Ward has talked the Racing Post through his nine
Royal Ascot
entrants.
Wesley Ward's Royal Ascot Stable Tour - Group One Runners
Maven - King's Stand Stakes
We hoped to bring him to Royal Ascot for the Norfolk as a two-year-old in 2019 but I didn't want to try him on soft ground so we missed it and he won a Group 3 at Chantilly instead. He won his comeback last year but then ran poorly at Kentucky Downs, after which we found he had an undescended testicle, which forced us to raise the white flag and have him gelded.
He came back after the whole winter off with no high aspirations but his work this spring has been an eyeopener. We won the Grade 2 Shakertown Stakes at Keeneland with Bound For Nowhere in April and Maven's numbers had been equal to his in a piece of work even though the ground was too soft for him and he wasn't fit enough, which made me think of Ascot – it was real wow factor stuff. Every piece of work this spring has been better than before so we'll see how he goes in the
King's Stand
.
Campanelle - Commonwealth Cup
She did great last year, winning the Queen Mary and the Prix Morny before coming fourth at the Breeders' Cup. She wintered down in Florida, where she did well, and we planned to bring her back at Keeneland but she bruised her heels, which meant we had to scratch her.
We've been cautious with her and it's definitely helped as she's 100 per cent again and her work has been great. She runs in the
Commonwealth Cup
and showed on the gallops at Newmarket on Sunday morning that she'd taken the flight well. Frankie rode her and she dominated Golden Bell quite eye-catchingly.
Wesley Ward's Royal Ascot Stable Tour - Two-Year-Olds
Kaufymaker
2021 Coventry Stakes Favourite
GET 7/2 HERE
New customers only. 18+ T&Cs and wagering requirements apply.
Kaufymaker - Coventry Stakes
I don't like singling out any of my horses as they're all here on merit and hopefully have a chance, but judged on the way she works I'm very excited about this filly. Her track form was decent but her breezes have been great from day one and have got better and better each time.
I'd been thinking of a race at Belmont for her when we decided to give her a shot on the Keeneland turf just to see how she'd take to it and she was the most impressive of all the breezers I had during the first week. She was ultra-impressive again next time and just hasn't stopped pleasing me.
I'd love to win the Coventry Stakes and she's likely to be going there rather than her other option of the Queen Mary, although her work this week will dictate that. She'd have the best chance of any of mine from their home workouts.
Lucci - Norfolk Stakes
He won nicely last month at Belmont with John Velazquez in the saddle and stayed on very well there, which was encouraging. He worked beautifully with Nakatomi at home last week and then breezed with the same horse on Sunday on the Limekilns and turned the tables in style, which was a real eyeopener for me. He looks to be going to the Norfolk Stakes with a real chance.
Lucci
2021 Norfolk Stakes Favourite
GET 4/1 HERE
18+ only. T&Cs apply. begambleaware.org


Nakatomi - Norfolk Stakes
He won his only start like a good horse. I had him carded for a race at home last month as I wasn't sure he'd like grass, but having tried him it has become apparent he loves it. He's also proved effective on firm or soft ground, which I don't think would be the case for most of his rivals. Oisin Murphy sat on him on Sunday morning when he worked fine with Lucci, although the other horse was well on top at the end.
Napa Spirit - Norfolk Stakes
We're looking at the Coventry or Norfolk with him but no decision will be made until he's done some fast work at Newmarket on the Limekilns this week, which will tell me how he's travelled. He's a busy colt and I'm just not sure whether the extra distance of the Coventry is right for him at this stage of his career.
Golden Bell - Albany Stakes
She was an impressive winner at Keeneland and the big question for her is racing on grass. The first time she breezed she was only average, but when we came back for a second go the ground was much softer and she just galloped away from her work companions - it was a big, big workout.
In my experience their first time on grass usually leaves horses a little unsure of the surface, but the second time they can step it up when they realise what it is. She worked on Sunday against Campanelle and was a bit green again but she'll have learned plenty from the experience again. She should love Ascot as she's a big, long-striding filly and she'll be an interesting runner in the Albany.
Ruthin
2021 Queen Mary Stakes Favourite
GET 5/2 HERE
New customers only. 18+ T&Cs and wagering requirements apply.
Ruthin - Queen Mary Stakes or Windsor Castle Stakes
She's always been at the forefront of my mind for the Ascot two-year-olds. She's a lovely, big, powerful sprinting type and won stylishly at Keeneland in April despite being green with her head up looking around for her rivals. We gave her time after that and she's since done a couple of nice pieces of work. She's owned by Stonestreet Stables, like Twilight Gleaming, and the pair of them will breeze at Newmarket before we decide which one goes for the Queen Mary and which one the Windsor Castle.
Twilight Gleaming - Queen Mary Stakes or Windsor Castle Stakes
She made her debut at Belmont last month and lived up to my expectations with an impressive seven-and-a-half-length win. She looked pretty handy on that firm ground and, although the opposition wasn't as hot as she'll meet at Royal Ascot, you couldn't help but be pleased with her. More importantly, she really impressed me with her last two breezes. She's a very sound, hardy type, holds her weight well and ships nicely, which is a big plus for next week.