Bob Baffert's suspension lifted in time for Saratoga meet
Bob Baffert's suspension by the NYRA has been nullified following a court appeal
The NYRA has banned Baffert from running his horses at any New York racetrack following Medina Spirit's failed drugs test
Judge Carol Bagley Amon ruled on Wednesday that the NYRA's ban was "unconstitutional"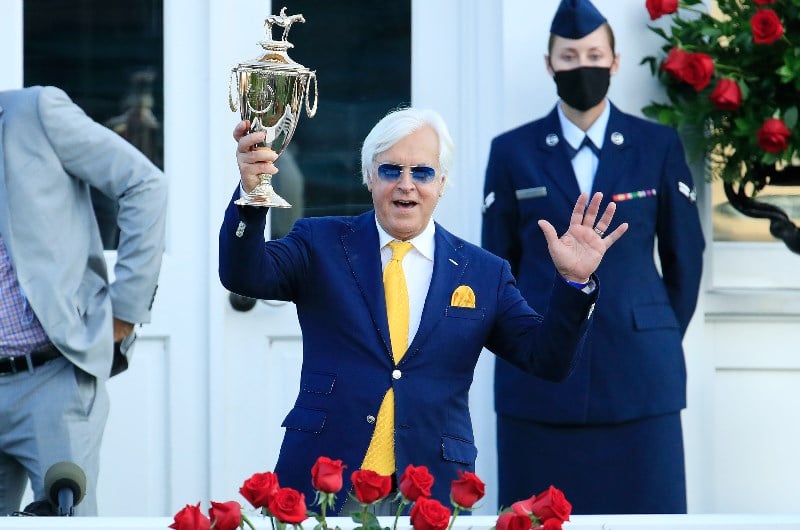 Trainer Bob Baffert has been cleared to again run his horses at New York racetracks. (Getty)
Bob Baffert will be allowed to run his horses at Saratoga's lucrative summer meet, after a judge ruled the ban issued to him by the NYRA was "unconstitutional".

Following Medina Spirit's failed drugs test after his Kentucky Derby victory, the New York Racing Association (NYRA) banned Bob Baffert from having runners at any of their racetracks. As this was the fifth time in little over 18 months that a Baffert runner had returned a positive sample, the
NYRA stated last month that it was their "right and duty"
to impose this ban on one of America's most powerful trainers.
Baffert took the matter to the courts and yesterday afternoon, judge Carol Bagley Amon decided that the NYRA had not followed correct procedure before imposing the ban, and Baffert's suspension would be lifted immediately.
"Even if NYRA had probable cause to suspend Baffert, a prompt post-suspension hearing would have been required." Judge Amon stated following the hearing.
The judge also stated a decision was made quickly to ensure Baffert could run his horses at Saratoga over the next three days.
Judge Amon continued, "the 2021 Saratoga summer meet is a one-time opportunity. And given that races are limited to horses of a certain age, an inability to compete in those means those horses will never have the chance."
"Baffert will face substantial damage to his income, client base and reputation if he cannot enter horses at NYRA races for the indefinite future. He has already lost one prominent client and stands to lose others, and has been deprived of the ability to compete at Belmont."
Once the verdict was reached, a spokesman for the NYRA released this impassioned statement.
"On May 17, 2021, at a time of crisis for the sport, the (NYRA) took emergency action to temporarily suspend Bob Baffert from racing or training at Belmont Park, Aqueduct Racetrack and Saratoga Race Course."
"This measure was taken to protect the integrity of thoroughbred racing. NYRA will continue to honor that commitment so that fans, the betting public and racing participants can be confident in a level playing field."
"NYRA is reviewing the court's decision today to determine our legal options and next steps. What is clear, however, is that Mr. Baffert's actions and behavior can either elevate or damage the sport. We expect Mr. Baffert to exert appropriate controls over his operation."
"Importantly, the court upheld NYRA's authority to exclude individuals from its racetracks whose conduct is contrary to the best interests of thoroughbred racing. The court also rejected Baffert's argument that NYRA had no legal authority to take the action that it did."