NYRA Statement - Our "right and duty" to suspend Baffert
The NYRA has released a short statement about the suspension of Bob Baffert
Baffert's horses were banned from all NYRA racetracks after the Medina Spirit drugs incident
"He alone bears responsibility for this state of affairs" the NYRA said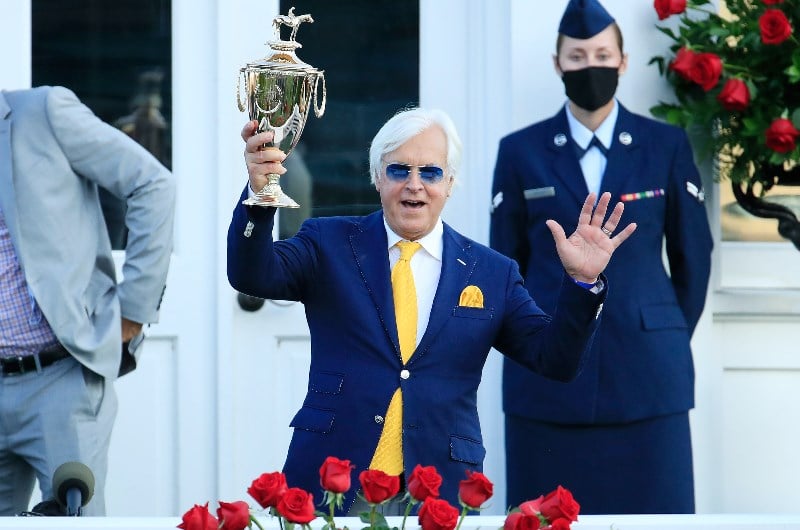 Bob Baffert is banned from having runners at any NYRA track. (Getty)
The fall-out from Medina Spirit's failed drugs test continued today, as the NYRA released a statement regarding trainer Bob Baffert.
Mere hours after Baffert celebrated another Kentucky Derby win, it was announced that Medina Spirit had failed a drugs test. To catch up on the full story, visit the
US horse racing section
on our website.
As a result, the NYRA decided to ban any Bob Baffert-trained horse from running at their racetracks indefinitely.
Baffert claims that the ban imposed on him not only damages his reputation but will cause a "mass exodus from his care of horses worth tens of millions of dollars as owners cannot allow themselves to be excluded from participation in the lucrative Belmont/Saratoga meets."
Despite Baffert's continual protests of innocence, the NYRA has remained steadfast with their punishment, and today released a short statement.
The statement read, "Whether through malfeasance, carelessness or a cavalier attitude toward the medication rules, horses in Mr. Baffert's custody and care have proved to be significantly embroiled in medication violations. He alone bears responsibility for this state of affairs."
"The source of damage to Mr. Baffert's reputation is not the NYRA temporary suspension; rather, the cause is a record of repeated drug testing failures, including most recently after American racing's most famous and highly visible race, the Kentucky Derby."
"Mr. Baffert cannot plausibly argue that his temporary suspension from racing at NYRA tracks has shut him out from those races where he typically earns most of his purse money annually."
"Further to this point, there are many alternative graded stakes races available to Mr. Baffert at racetracks in the United States other than those operated by NYRA."
The Jockey Club also moved to side with the NYRA, stating they were "entitled" to hand out whatever punishment they feel befits the situation.
"From The Jockey Club's perspective, in order to protect the health and safety of the sport's participants and retain the public's confidence in the integrity of racing and wagering, racetrack governing officials should be entitled to suspend immediately a trainer or anyone else credibly responsible for the administration of medication resulting in a substance violation. These decisions will almost always have to be made swiftly to be meaningful."
Baffert has tried to sue the NYRA for alleged improper suspension. Whether that legal case will come to fruition, it's too soon say, but for now Baffert is left trying to save face as his name is dragged through the mud.
Related articles