"We did not cheat" - Baffert defiant after Medina Spirit fails drugs test
We bring you the news that Kentucky Derby winner Medina Spirit has failed a drugs test
Anti-inflammatory drug betamethasone was found in the horse's system
Purse is being held and Bob Baffert has been banned from running horses at Churchill Downs
Baffert vehemently denies any allegations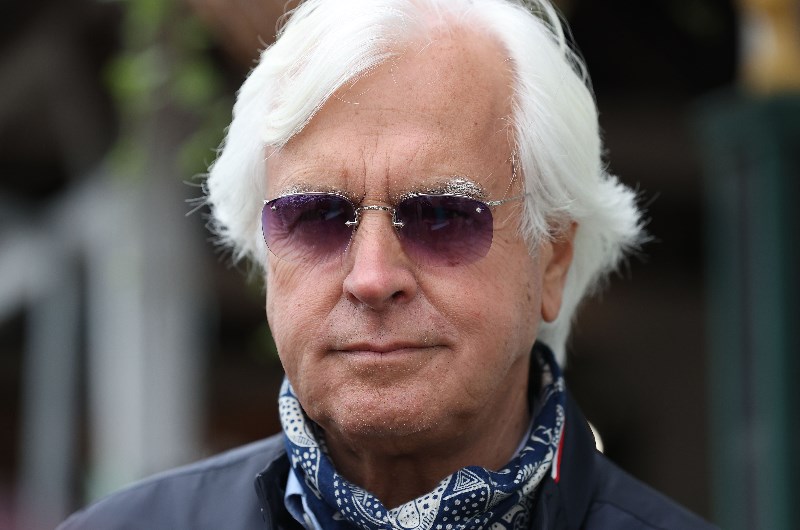 Bob Baffert the trainer of Medina Spirit talks to the media during the training for the Kentucky Derby at Churchill Downs. (Getty)
Last month, Medina Spirit made all to hand Bob Baffert his seventh victory in the
Kentucky Derby
. All celebrations have been put on hold, though, after the winner failed a post-race drugs test.
21 picograms - one trillionth of a gram - of the anti-inflammatory betamethasone were found in Medina Spirit's sample. Last year, authorities changed the threshold for a positive betamethasone test from 10 picograms per millilitre of plasma to 21 picograms per millilitre, meaning Medina Spirit's sample was just one picogram away from being judged clean.
This is the latest in a series of pdrugs incidents that have rocked Baffert's stable. Five horse from Baffert's legendary stable have returned a positive sample in the last 12 months alone, and the trainer has been forced to argue his case once again.
"It did not happen," Baffert told the media. "That horse has never been treated with (betamethasone). Actually, it's a legal therapeutic medicine and the amount that was in it wouldn't have any effect on the horse anyway.
"But that horse was never treated with that and so that's the disturbing part of it. I never thought I'd have to be fighting for my reputation and the poor horse's reputation.
"We live in a new world now. These horses don't live in a bubble. They're in an open farm. People are touching them."


"There's so many ways these horses can get contaminated and when they're testing at these really ridiculously low levels - I've been saying it for over a year now these are gonna get innocent people in trouble and this is what happened now,"
In another interview, Baffert gave a quite ridiculous excuse as to how the drug might have got into Media Spirit's system. Baffert claimed that a groom who had been taking cough medicine had urinated on a bail of hay in Medina Spirit's stable. He then claims the horse must have eaten the urine-soaked hay, causing the drug to show up in his sample.
This debacle has caused a storm across the world of mainstream media. Even chat show host Jimmy Kimmel covered the story on Jimmy Kimmel Live!, ridiculing Baffert's notion that the "cancel culture" which is sweeping America is to blame for this incident.
"Churchill Downs came out with that statement and that was pretty harsh," Baffert continued.
"We live in a different world. This America is different. This was a cancel culture kind of thing."
The owners of Medina Spirit have requested another sample be tested. That hasn't stopped the Kentucky Horse Commission from holding the winner's purse and banning Baffert's horses from running at Churchill Downs. If the second sample also comes back positive, then Baffert could be facing a lengthy ban, which would further tarnish his questionable reputation.
Related articles