Buveur D'Air set for Haydock return following "unreal" racecourse gallop
We bring you news that Buveur D'Air is set to make his return in the Grade Two at Haydock on Saturday 23rd January
The two-time Champion Hurdler has been out since suffering a splinter injury in the 2019 Fighting Fifth
Trainer, Nicky Henderson told the press his star has made a "remarkable" recovery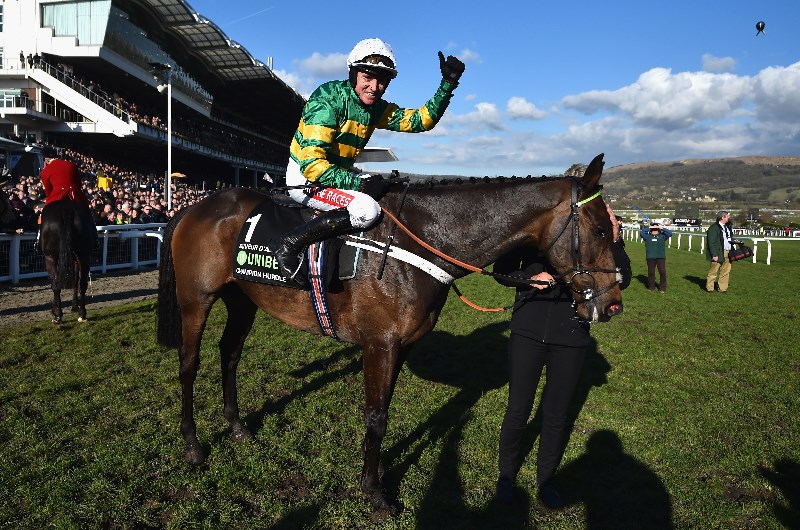 Buveur D'Air ridden by B J Geraghty celebrates victory following the Unibet Champion Hurdle in 2018. (Getty)
It's been 18 months since we last saw Buveur D'Air on the race track. Nicky Henderson's two-time Champion Hurdle winner entered the 2019 Fighting Fifth Hurdle as the firm favourite, but suffered a shock defeat at the hands of Cornerstone Lad.
It turned out that Buveur D'Air had sustained a horrific splinter injury when smashing through the second-last at Newcastle. Following complex surgery to rebuild the damaged front-right hoof, the racing world has been eagerly awaiting the day we see Buveur D'Air back on the race track.
It seems that moment is just a week away, as trainer Nicky Henderson confirmed Buveur D'Air would run in The New One
Unibet
Hurdle, a Grade Two staged at Haydock next Saturday.
"Buveur D'Air is coming along extremely well." Henderson revealed to the press. "(He) had an away day on Wednesday and, I have got to say, he was absolutely amazing."
"To start with, he jumped five hurdles at home, which was the first time he'd left the ground since the Fighting Fifth in 2019, and he certainly hasn't forgotten anything – he was brilliant."
"His recovery has been nothing short of remarkable and great credit should be given to all the team at Martinstown, including John O'Brien and Ger Kelly, who did such a good job putting his foot back together."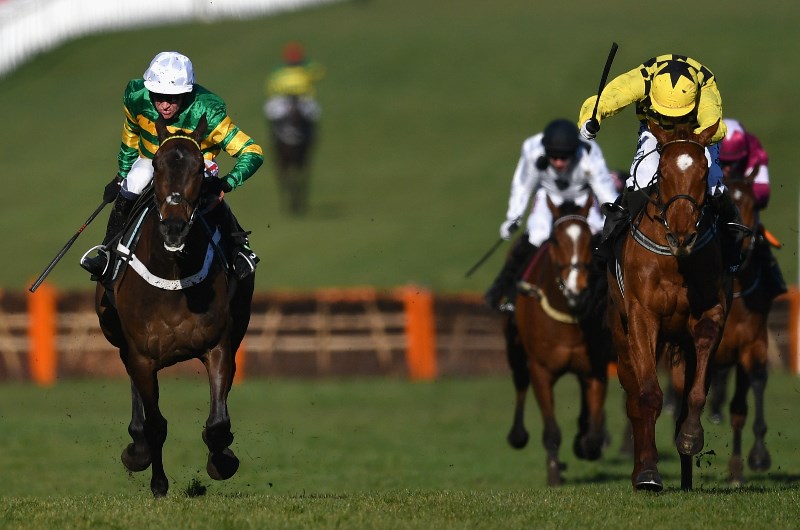 "I've always thought we were ahead of schedule, so the time came to give him a serious gallop and after schooling over our hurdles we went off elsewhere and jumped seven hurdles over a mile with two lead horses. Then one dropped out and another one joined in and they worked together on the flat for another mile, where they quickened and quickened. I have to say, it was unreal, he didn't half quicken up to the end."
"It was wonderful to watch because it's been some journey to get him back, bearing in mind we were even questioning if he'd ever be able to race again. He has made fantastic progress, so much so that I have decided he's ready to go and I'm very much thinking about running him in The New One Unibet Hurdle at Haydock next Saturday."
Many expected the Listed Contenders Hurdle, a race Buveur D'Air won in 2018 before retaining his Champion Hurdle crown, to be the scene of his reappearance. The fact he's coming out earlier, and in a higher-quality race is a massive positive for Buveur D'Air's fans.
Since Nicky Henderson broke this news, Buveur D'Air has been snipped into 20/1 to regain the
Champion Hurdle
. Henderson also confirmed that Nico De Boinville would ride Buveur D'Air at Haydock, as Aidan Coleman will almost certainly partner Champion Hurdle favourite, Epatante at the Cheltenham Festival.