Racing News
Envoi Allen joins Henry De Bromhead as Cheveley Park remove horses from Gordon Elliott's yard
Cheveley Park Stud has removed their horses from Gordon Elliott's stable
Elliott faces a disciplinary hearing after a photo emerged of the trainer sitting on a dead horse over the weekend
Envoi Allen will be moved to Henry De Bromhead's yard
Sir Gerhard will join Willie Mullins' stable
Envoi Allen (right) winning the 2020 Ballymore Novices' Hurdle. (Getty)
The fall-out from the shocking incident involving Gordon Elliott gathered pace on Tuesday, as leading owners Cheveley Park Stud removed all eight of their horses from Elliott's yard.
Michael O'Leary, head honcho of Gigginstown Stud, has decided to stand by their chosen trainer, and Elliott will continue to train their horses, whatever the outcome of Friday's hearing. Cheveley Park Stud, however, has taken a completely different stance.
Richard Thompson of Cheveley Park said, "For Gordon, it's a terrible time for him, but obviously he's made a terrible error of judgement which he admits, but I explained to him we had to do the right thing by Cheveley Park."
"We had to consider what was happening yesterday with the building story and the backdrop of Cheveley's reputation in terms of probably the most important British-owned racing and breeding operations in the UK, and the fact that this reputation has been built up, we have various breeders and many people who support us."
"We had to look at the context of where Cheveley sits in the industry and our responsibility to the industry in Britain."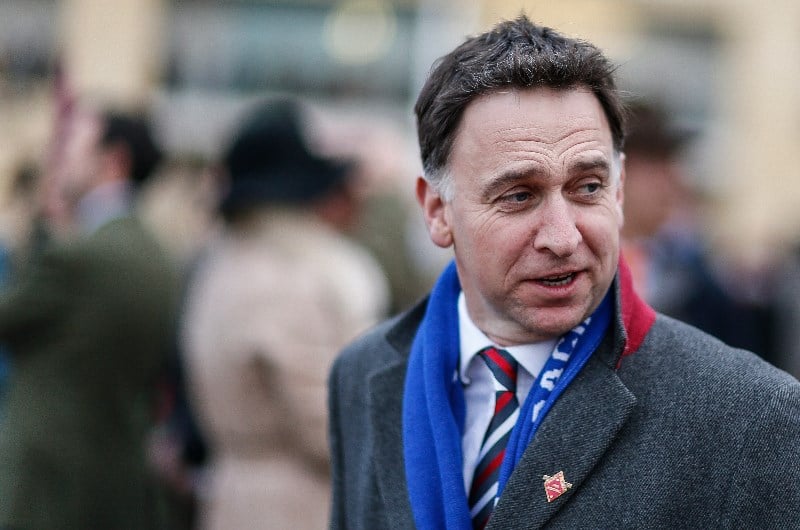 Gordon Elliott had eight horses owned by Cheveley Park Stud. Chief amongst them was unbeaten star Envoi Allen, who will now be trained by Henry De Bromhead. Sir Gerhard, who's also unbeaten in three career starts, will be moved to Willie Mullins' yard.
"We have eight horses (with Gordon Elliott]), and they'll go to Henry de Bromhead and Willie Mullins. That will be organised by Chris Richardson and the team. Logistics are in place, and we're organising it right now."
"The big horse, Envoi Allen, will go to Henry with Sir Gerhard to Willie. Quilixios will go to Henry (As will Ballyadam). With trainers like Henry and Willie, along with Chris and the team, we have real professionals on the job to hopefully resolve this very quickly and for it to be very smooth."
Envoi Allen remains the odds-on favourite to win the 2021 Marsh Novices' Chase at the
Cheltenham Festival
in two weeks time.
Sir Gerhard has been clipped into 2/1 in the Champion Bumper betting, but with his new trainer Willie Mullins also accounting for the 6/4 favourite Kilcruit, it now seems unlikely that they will square off at Cheltenham.