Gordon Elliott's runners could be banned from Cheltenham Festival after horrific image emerges
We bring you the news that Gordon Elliott's runners could be barred from running at the 2021 Cheltenham Festival
An image came to light over the weekend appearing to show Elliott posing for a photo while sitting on a dead horse
Elliott confirmed the photo is real and offers a sincere apology on Monday
The BHA have banned Elliott's horses from running in Britain until the IHRB have delivered their punishment
Trainer Gordon Elliott on the gallops at Cheltenham Racecourse in 2020. (Getty)
The horse racing community in Britain and Ireland united as one to condemn the actions of Gordon Elliott this weekend, after a sickening image was brought to the public attention.
On Saturday, a photo began doing the rounds on social media that appeared to show Gordon Elliott posing for a photograph, while sitting on a dead horse. Racing fans were quick to question the validity of the image, with most certain it had been photoshopped.
Alarm bells began to ring when Elliott did not immediately come out and denounce the photo as a fake, instead stating he was "cooperating fully with the IHRB (Irish Horseracing Regulatory Board)". On Monday morning, the news everyone in horse racing had been dreading was finally announced, as the three-time Grand National-winning trainer admitted that the abhorrent image was, in fact, real.
"I received a phone call after the second-last race at Fairyhouse on Saturday telling me about the image that had appeared on social media," Elliott told the Racing Post on Monday.
"My initial reaction was that it couldn't possibly have been me but then the picture was sent to me and I realised it was. It was a few years ago.
"There were a lot of people telling me to say it was photoshopped, but the one thing I've always been told in life is that if you start telling lies you will end up telling lies for the rest of your life."
"I instantly realised the magnitude of the situation and thought about all I had worked so hard for. I bought my yard nine years ago and the day I bought it I didn't even have the deposit to pay for it. I have worked so hard to get to where I am today.
"My heart goes out to all my staff. I know how hard they work. I know that I have not only let them down but that I have let the whole racing industry down too. That is down to my stupidity and I am truly, truly sorry."
Elliott continued. "It is indefensible. Whether alive or dead, the horse was entitled to dignity. A moment of madness that I am going to have to spend the rest of my life paying for and that my staff are suffering for.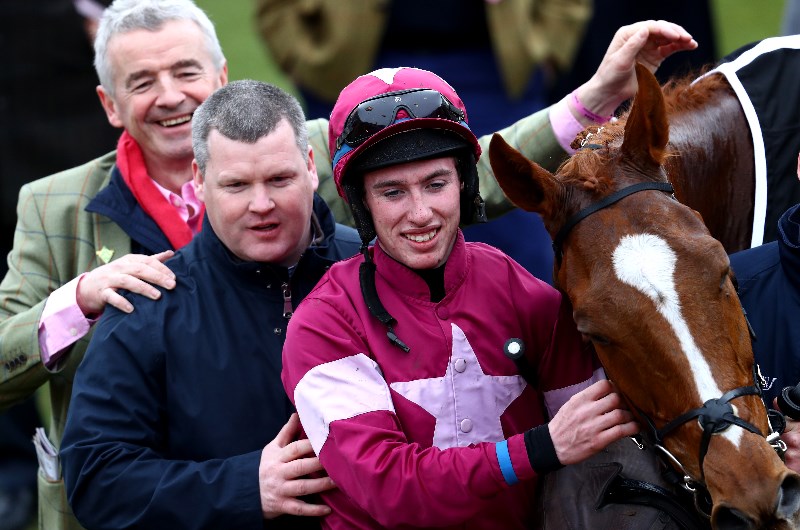 "I will be punished, I fully understand that. But it absolutely breaks my heart to read and hear people say that I have no respect for my horses. That couldn't be further from the truth. My whole life has revolved around horses since I was a child. I know nothing else. Horses are all I have. I came from nothing and built a dream.
"When your world starts crumbling in front of you, it's a scary place to be. I just hope people can understand how truly sorry I am and find some way to forgive me for what I have done."
"I treat each and every one of the horses I train with the utmost respect. We pride ourselves on having the highest of standards with the way we treat our horses, and our staff. I think our facilities here at Cullentra vouch for that. Horse and staff welfare is at the very top of my priorities."
"I've invested heavily in outdoor paddocks for horses with respiratory problems; we have vibrating massage plates; a swimming pool; padded stables; a cooling down area. We even bring horses to the beach on a regular basis for an away day. The welfare of my horses, both physically and mentally, is massive."
"I can guarantee that this will never happen again to any animal, alive or dead."
Bookmakers
Betfair
immediately ceased their partnership with Elliott after his admission went public. The IHRB released a statement saying they were horrified by the image, and they would reach a verdict on Gordon Elliott's punishment in a swift and timely manner.
Meanwhile, the BHA banned any Gordon Elliott-trained horse from running in the UK until the IHRB had reached their verdict, plunging Elliott's participation at the Cheltenham Festival - which begins two weeks today - into serious doubt.
It's highly unlikely that Gordon Elliott will have his licence revoked. This, as far as we know, is a one-off and it didn't directly impact the result of a race. A fine of unprecedented quantity will be handed out, after which Elliott will make sizable donations to racing welfare charities, in a bid to save face.
Envoi Allen and Tiger Roll may end up running at the
2021 Cheltenham Festival
. But you can guarantee there will be no fanfare, no smattering of applause if Gordon Elliott steps forward to collect a winner's trophy.
The integrity and humanity of all involved in horse racing is questioned by those outside the sport on a regular basis. Trainers may appear to be closed off and calculating when discussing running plans and performances, but behind the scenes, all horses are treated with immeasurable respect.
Thousands of stable hands are employed around the world to ensure that racehorses live a life of complete luxury. Most are paid a pittance to carry out this back-breaking, laborious work. They do it, simply, for the love of horses.
Please, do not let this isolated incident, this callous act of cruelty, tarnish your views on this wonderfully wholesome sport.