Denise Foster to step in for Gordon Elliott during six-month ban
We bring you the news that Denise Foster will take over training duties at Gordon Elliott's Culterra stables
Foster is a highly-regarded trainer based in County Meath
Gordon Elliott was banned for a year on Friday, six months of which has been suspended
Foster's name will appear next to all of Elliott's runners at the Cheltenham Festival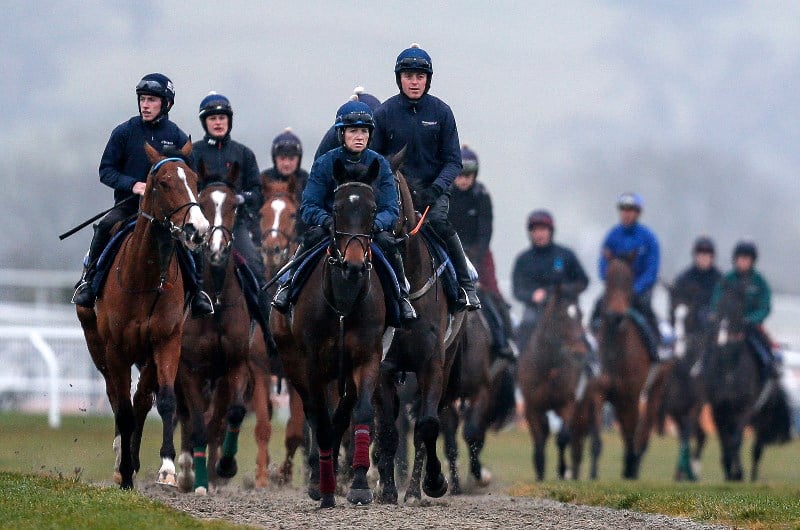 Gordon Elliott runners on the gallops at Cheltenham last season. (Getty)
Yesterday, Gordon Elliott was banned and fined as part of the IRHB's inquiry into the dead-horse photo scandal.
Elliott has been banned for a year - six months of which will be suspended - and also ordered to pay a fine of £15,000.
This ban comes into effect on Monday, meaning no horses will run at the 2021 Cheltenham Festival, Aintree's Grand National meeting and the Punchestown Festival under Gordon Elliott's name.
This punishment, however, applies solely to Elliott himself. Horses stabled at Cullentra House are free to run, as long as they are not entered under Elliott's name. It would be unfair to the owners, and the horses themselves, if they were denied the opportunity to taste success at the sport's biggest spring meetings.
The BHA said last week that they wanted the best horses to run at Cheltenham. They also released a yesterday stating that "if (Elliott's) horses are transferred directly to other licensed trainers prior to March 9th, they will be able to run."
Therefore, it was inevitable that a steward would be put in control of Gordon Elliott's stable, and it's now been confirmed that Denise Foster will take over the reins during Elliott's ban.
Foster is a hugely respected trainer in Ireland, having worked in the equestrian industry for several decades. From her base in County Meath - just a stone's throw away from Elliott's yard - Foster has sent out several high-profile winners during her training career, including Listed winner Lily's Rainbow and Not For Burning, who won three times at Fairyhouse during 2016.
Ante-post punters who've backed Gordon Elliott's horses can now breathe a sigh of relief, knowing that all of his
Cheltenham Festival
entries will be allowed to take part in "the greatest show on turf".
Foster told the press over the weekend, "I am honoured to take over from Gordon and realise he is a hard act to follow."
"I am delighted by the contacts I have had with the owners and staff to date. This a great responsibility but I could not ask for a better set up. I will take charge from Monday."